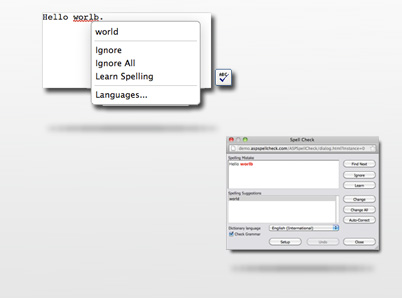 The ASP SpellCheck Component
ASP Spell Check is the comprehensive spellchecking solution for websites and intranet forms written in Microsoft ASP.

ASP Spell Check provides "Spell-Check-As-You-Type" capabilities across all major web browsers. It also offers a traditional spell-check in an MS Word ® style spell-check popup window.

The software is well tested & polished and can be installed in minutes...

Download
Developer trial licenses are free and do not expire.
We also have commercial licenses for as little as $89.
ASP SpellCheck's Features
Easy To Install

ASP Spell Check does not have any installers or Active X because it is written in pure ASP. Just copy and paste to install.
Spell-As-You-Type

ASP Spell Check provides unique in-context spellchecking for any or all textareas in your ASP application.
Spelling Dialog Window

ASP Spell Check also provides a classic pop-up style spellchecker that can be applied to any Form, HTML Element, Field or Textarea.
Cross Browser Compatibility

Works on all major web browsers including Internet Explorer 5+, FireFox, Netscape, Konqueror, Safari, Chrome, iPhone, iPad and many more...
Multi Lingual Dictionaries

ASP Spell Check has over 20 free dictionaries in international languages as well as medical, scientific and legal English.
Active Support by Americans

We have maintained our #1 position for 7 years by listening to our customers and responding intelligently.
A market leader - we also provide spellchecking solutions for JavaScript, ASP.Net and PHP